On This Day (19th June) – WW2 Shipwreckollections
SS Etrib (1919-1942)
At 58 minutes past midnight on 19 June 1942, U-552 fired a spread of two torpedoes at two overlapping freighters in convoy HG-84 about 400 miles west of Corunna, Spain. The SS Etrib and the SS Pelayo sank after being hit by one torpedo each.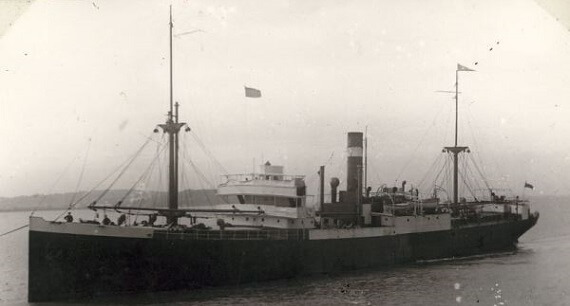 The Etrib was struck on the starboard side in, almost under the bridge which collapsed completely. The explosion opened a large hole in the aft end of the hold and blew its hatch covers and beams off. The flooding caused an immediate list of 15° to starboard, gradually increasing while the crew of 32 men, six gunners (the ship was armed with one 12 pounder and four machine guns) and two passengers began to abandon ship after sending distress signals that were received by the rescue ship SS Copeland.
They managed to launch the starboard lifeboat despite buckled davits and the port boat just before it would have been impossible to launch due to the starboard list. A raft stored on #2 hatch had been destroyed by the explosion, but the three remaining rafts floated free when the ship sank by the bow with a list of 45° to starboard about 10 minutes after being hit.
HMS Marigold arrived after a half an hour and picked up the master, 27 crew members, all gunners and both passengers. The corvette then rescued survivors from other torpedoed ships, rejoined the convoy and in the afternoon transferred 26 men from Etrib to the Copeland.
The master, the chief steward and an able seaman had been injured by the torpedo explosion and four men were unaccounted for: the second officer and an able seaman had been on watch on the bridge and were presumably killed.
The boatswain and a fireman were reported missing after being last seen while abandoning ship. Both rescued themselves by swimming to nearby rafts and the boatswain eventually boarded an empty lifeboat.
At 21.15 hours on 24 June, he was picked up and taken prisoner by U-106 and landed at Lorient five days later. The fireman William Swinchin found himself all alone and survived an amazing 77 days at sea until his raft was spotted by U-214 at 13.15 hours on 29 August. He was taken prisoner and remained aboard until the U-boat returned to Brest on 9 October.
The SS Copeland landed the survivors at Greenock on 20 June, where the Shipwrecked Mariners' Society prided 20 of them with £99\7\4 worth of financial support, equivalent to more than £5,500 in today's money.
Picture and information courtesy of uboat.net and WreckSite.eu