Society grateful for Tenby residents' donation
The Shipwrecked Mariners' Society is grateful to the residents of Tenby who came together to raise £1,500 to support local organisations targeted by thieves earlier this year.
The mayor of Tenby, Cllr Sam Skyrme-Blackhall, presented the Society's local Honorary Agent, Richard Sadler, with a cheque for £500 after she set up an online appeal to replace any losses caused by thieves targeting the Society's collection mine, the RNLI and a local café during the first COVID-19 lockdown.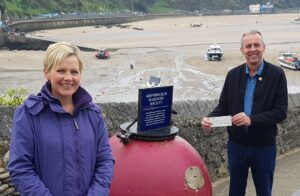 The residents of Tenby raised £1,500 which was equally split between the three victims of the crime.
The Society would also like to show its appreciation for the diligence of local police who trawled through all available CCTV footage to identify the thieves, despite being unable to do so at this stage.
The donation has allowed the Society to purchase a high duty barrel padlock, replace the stolen canvas collecting bag and will also see the mine get a fresh coat of paint ready for next year's tourists.