Society pays tribute to former Chief Executive
The Shipwrecked Mariners' Society has paid tribute to former Chief Executive and decorated Royal Navy Officer, Commodore Malcolm Williams CBE who tragically passed away following a road traffic accident last week.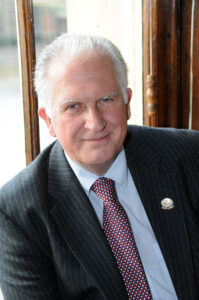 Malcolm retired as the Society's Chief Executive in 2018 after 14-years at the helm. Prior to joining the Charity he served in the Royal Navy for 31-years and was honoured by the Queen with a CBE for his role in the response to crisis in Sierra Leone and Kosovo. He also coordinated responses to natural disasters in Mozambique and Honduras.
The Society joins with Malcolm's family who have said: "Commodore Malcolm Williams CBE RN was a man of principle, fortitude and compassion. Both his naval career and his subsequent work for the Shipwrecked Mariners' Society were immensely important to him. He will be missed by those that had the privilege to know him."
During his Royal Navy service Cdre Williams served as operations officer on the Type 21 frigate HMS Ambuscade during the Falklands conflict. He also served as navigator aboard aircraft carrier HMS Illustrious and commanded both HMS Andromeda and HMS Scylla. He was commanding officer on HMS Fearless while she was deployed in the Far East for the handover of Hong Kong in 1997.
Following his naval retirement Malcolm took up his role with the Shipwrecked Mariners' Society, focusing on the welfare of merchant seafarers, fishermen and their dependants in need. He led a campaign to stop cheques being abolished by banks and called for acknowledgement of merchant seafarers during Remembrance services.
Speaking following the news of Malcolm's passing, Society Chairman, Captain Nigel Palmer OBE, MNM said:
"Malcolm was a true gentleman and respected by all who knew him. He instigated reform and modernisation of the Society during his time as Chief Executive and we have much to be thankful to him for. When he retired he left the Society on a solid foundation for the future and his legacy will live on.  His tireless campaigning for proper recognition of the role of the Merchant Navy in wartime was successful in raising the profile with the public. He will be very sadly missed by us all."