Shipwrecked Mariners' Society Chief Executive Retires
Commodore Malcolm Williams CBE RN retires after 14 years…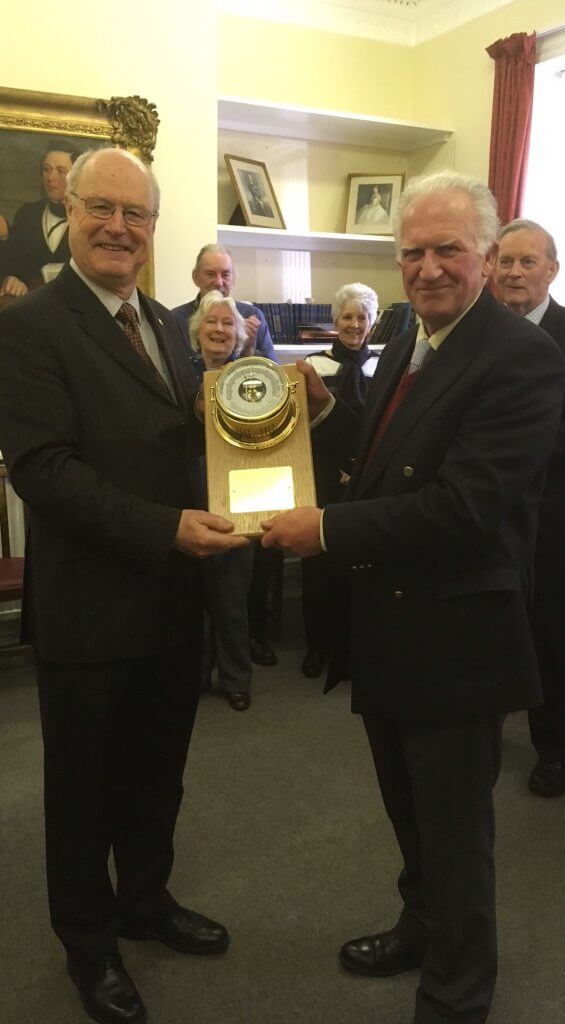 Charity chief executive, Commodore Malcolm Williams CBE RN, has retired from the Shipwrecked Fishermen and Mariners' Royal Benevolent Society after 14 years at the helm.
At an afternoon event hosted in his honour at the Charity's Chichester headquarters and attended by Charity staff and local volunteers, Commodore Williams was presented with the Shipwrecked Mariners' Society Admiral of the Fleet Sir Julian Oswald Award by the Society's Chairman, Captain Nigel Palmer OBE MNM, in recognition of his services.
Reflecting on his tenure at the Society, Malcolm said: "It has been a great privilege for me to have led and represented a charity that has played such an important role in alleviating need among retired and working fishermen, merchant seafarers, and their dependants, and has been doing so for the last 179 years.
"In that time many aspects of our country and the way we live have changed greatly, and while the range of risks faced by those who earn their living at sea may have changed too, the basics have not. The demands on physical stamina and the perils of being at sea in all weathers still mean seafaring is inherently dangerous."
In the last year the Shipwrecked Mariners' Society has paid out a total of £1.4M in over 2,000 cases of need – over 1,500 being regular beneficiaries whose circumstances necessitate on-going financial support.  The Charity also received nearly 500 new applications for assistance, demonstrating the vulnerability of those from this often-neglected sector of society, leaving retirees and their families combating long term consequences.
Commodore Williams and his wife, Sally, live in Southsea and Malcolm is now looking forward to spending time with his family, pursuing his passion for painting and enjoying the good life on his allotment.
The Charity has appointed Captain Justin Osmond RN as its new chief executive with Captain Osmond taking immediate responsibility for its activities, including the Society's Skill & Gallantry Awards, which it has been presenting since 1851 for heroism at sea, and the annual maritime photographic competition, which launches in June.  Over the coming months he will also be meeting many of the Society's national volunteer network of over 180 Honorary Agents.