Heroes at sea honoured at Skill & Gallantry Awards
Six remarkable stories of skill and gallantry at sea have been recognised and rewarded at a national awards ceremony held in London.
An HM Coastguard search and rescue helicopter crew, a trawler engineer, the crew of a fishing vessel and a selfless bystander were among just some of those celebrated by national maritime charity, the Shipwrecked Mariners' Society, at its annual Skill & Gallantry Awards ceremony.
For the first time in the Society's history, the Grace Darling Award for exceptional bravery was awarded to Emily Greenwood, who displayed incredible composure, stamina, and heroism in rescuing two people caught in a riptide at Holywell Bay in Cornwall earlier this year.
The Lady Swaythling Trophy was awarded to Kriss Leel, 1st engineer of the pair trawler 'Guiding Light', for outstanding seamanship in helping save the lives of five trawling fishermen whose boat sank following a collision last year.
The Edward and Maisie Lewis Award, for outstanding air sea rescue, was presented to the crew of an HM Coastguard search and rescue helicopter based at Newquay, for the safe rescue of eight passengers onboard a yacht in extremely challenging conditions.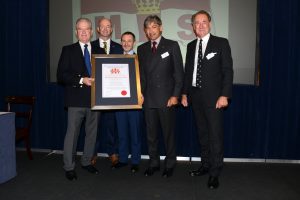 The first of three Crew Commendations was awarded to the skipper and crew of fishing vessel Arcturus for saving the lives of 31 people in the English Channel late last year, with additional awards going to the crew of a Portsmouth-based destroyer for saving five crew members from a stricken yacht in the English channel last year and the crew of a ship that supported the pan-Government response to the migrant crisis in the English Channel.
Lord Lewin Awards for outstanding service to the charity were also presented to two of the Society's volunteers. Gwen Rayner, the Honorary Agent for South Shields, was honoured for her dedicated service and exceptional commitment to her local maritime community. While Keith Langworthy, Honorary Agent for Dartmouth, was recognised for his exceptionally committed support and outstanding efforts to restore and maintain the Society's Dartmouth collecting mine.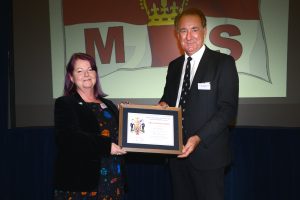 The honours were presented at the Society's 172nd  annual Skill & Gallantry Awards held at Fishmongers' Hall in London on Tuesday 3 October.
Chief Executive of the Shipwrecked Mariners' Society, Captain Justin Osmond RN, commented: "Our Skill and Gallantry Awards are a fantastic opportunity for the maritime community to celebrate the brave, unsung heroes of the industry.
"The maritime sector is not only vital to the UK, but those working at sea also who can find themselves at the mercy of nature, so it is hugely important that we recognise the remarkable and selfless acts that are carried out every single year off our shores.
"We are also honoured to celebrate individuals within the charity that give so much of their time to supporting the maritime community, enabling us to help those in need."
The Shipwrecked Mariners' Society offers support to those across the UK that are suffering hardship during, or after fulfilling their life at sea. The charity aims to offer support to seafarers, and their dependants, to make a positive difference to their lives. The charity continues to provide help to thousands of individuals each year by offering financial and practical support to those in need, and earlier this year launched an additional support fund to further help seafarers in need affected by the cost of living crisis.