On this day (4th January) WW1 Shipwreckollections
HMHS Rewa (1906-1918)
The British steamship, Rewa, was built in 1906 by William Denny & Brothers, Dumbarton for the British-India Steam Navigation Company. She was drafted by the Royal Navy and converted into a hospital ship.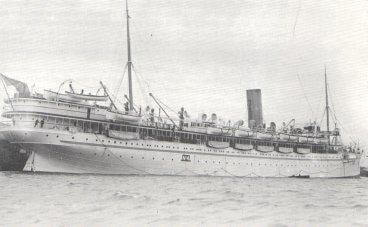 On 4 January 1918, the Rewa was carrying more than 250 wounded soldiers from Malta to England when she was torpedoed by a German U-boat under the command of Wilhelm Werner, killing four engine men. With the ship beginning to flood, all remaining of those on board were evacuated to the lifeboats.
Almost three hours after the torpedo impact, the hospital ship of 7,308 tonnes sunk 19 miles off Hartland Point. Thankfully, no further lives were lost.
Following the war, Wilhelm Werner was hunted by Allied command in an attempt to charge him for war crimes but he had disappeared and avoided a trial.
The Shipwrecked Mariners' Society has offered assistance for fishermen and mariners in need since 1839. The maritime charity provides help for mariners, retired seafarers and their dependants, through financial help including welfare grants, as well as assistance and support.
Photo credit: wrecksite.eu