On this day (15th March) WW1 Shipwreckollections
RMS Amazon (1906-1918)
The British ocean liner, RMS Amazon, was built in 1906 by Harland & Wolff Ltd., Belfast. At the time of her loss 12 years later, the Amazon was under the ownership of the Royal Mail Steam Packet Co. Ltd., London.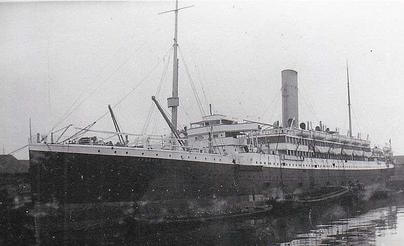 On 15 March 1918, the Amazon, without an escort, was travelling slowly in fog on a voyage from Liverpool to Brazil carrying 24 passengers. When the liner of 10,037 tonnes was located 30 miles N by W from Main Head, Ireland, she was torpedoed without warning by a German U-boat, causing her to sink within 15 minutes.
Thankfully, the destroyer HMS Moresby managed to rescue all of those on board.
The Shipwrecked Mariners' Society has offered assistance for fishermen and mariners in need since 1839. The maritime charity provides help for mariners, retired seafarers and their dependants, through financial help including welfare grants, as well as assistance and support.
Photo credit: wrecksite.eu