On This Day (13th March) – WW2 Shipwreckollections
The SS Guido (1920-1943)
In March 1943, the SS Guido was hunted by a wolf pack of German U-Boats 10 miles starboard as it was going from New York to Greenock. The fatal torpedo was fired from U-633 on the 8th of March.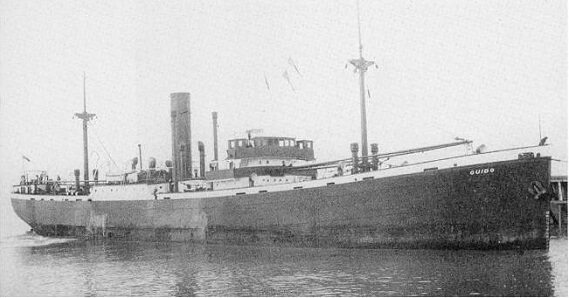 The crew suffered a loss of two gunners and eight crewmen with the surviving hands being rescued by the USCG Spencer before being disembarked at Londonderry. Of its complement of 45, 35 survived the wreck including Master George Mussared & First Mate Herbert Martin.
The Guido, which was first launched from Hull in 1920 by Ellerman´s Wilson Line Ltd, had fallen 10 miles behind its convoy SC-121, 450 miles southeast of Cape Farewell, before being sunk by a stalking pack of U-Boats. The Guido was transporting a mixed cargo of sugar and cotton, but also letters possibly being sent to US servicemen in Britain.
As well as the 35 survivors, the Shipwrecked Mariners' Society gave financial support to the families of four lost souls of the Guido, to the total of £182, 2 shillings and 4 pence, an amount equal to over £7000 in today's value.