Remembering the hero mother who saved steamship sailors in 1884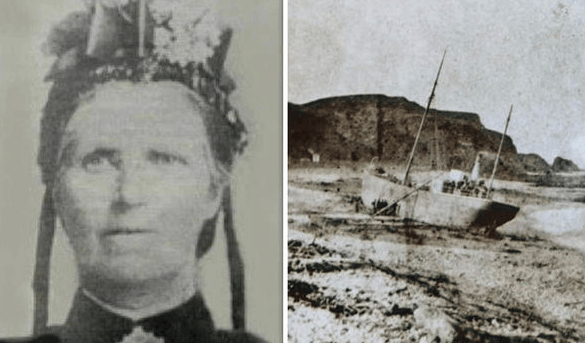 The Shipwrecked Mariners' Society recently received a very interesting enquiry from Mr Bill Diack, a great grandson of Mrs Jane Whyte, who, as a 40-year old mother of 9, was responsible for saving the crew from the homeward bound Dundee steamship William Hope at Aberdour beach, near Fraserburgh, in 1884.   Mr Diack informed us he knew his great grandmother received £5 from the Society in recognition of her bravery that year and he asked if we had any records mentioning her actions and her award.  Such a fascinating and remarkable act of heroism was well worth investigating and after searching through the archives we were delighted to let Bill know that yes, we had indeed found mention, by way of the following extract from the Society's minute book dated Friday November 21st 1884 detailing Jane Whyte's ''act of heroism'',
Under the head of General Proceedings Correspondence, the Secretary submitted Documents reported as follows-
Correspondence dated Nov 10th, with Harbour Master at Rosshearty, and the Society's Honorary Agent at Fraserburgh in regard to an "act of heroism" as recorded in the Public Press, by Mrs Whyte, wife of a local Farm-Servant, on occasion of wreck of the SS " William Hope" of Dundee, in Aberdour Bay, where, during a gale on Oct 28th, Mrs Whyte courageously exposed herself to great danger in securing rope for rescue of the crew of 6 men, all told, and subsequently housing and humanely providing for the poor fellows – in recognition of which most praiseworthy services The Honorarium of the sum of £5 was unanimously awarded her.
The full story about Jane Whyte can be found here along with press coverage detailing the events and information about a storyboard being erected by the local community council detailing Jane Whyte's heroic actions.
A memorial plaque can also be found on the site of her croft.   The 100th anniversary of Jane Whyte's passing will be this August.