Heroes of the Sea to be Honoured
National Maritime Charity Calls for Skill and Gallantry Awards Nominations
The Shipwrecked Mariners' Society is calling on members of the maritime community, and rescue organisations, to nominate colleagues and associates who have demonstrated outstanding skill and gallantry in rescuing those in peril at sea.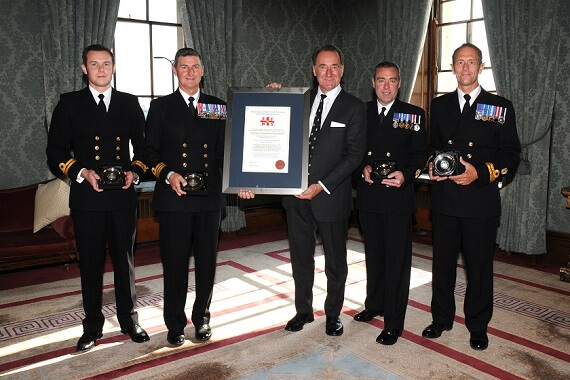 The Society, which has provided financial support to merchant seafarers, fishermen and their dependants since 1839, will hold its 166th Skill and Gallantry Awards Ceremony in October.  The Awards seek to recognise those who have shown exceptional courage in the face of adversity.
Last year saw the Society's president, Admiral Sir George Zambellas, present awards to  'Rescue 193' of 771 Naval Air Squadron RNAS CULDROSE;  the Crew of HMS CLYDE; Petty Officer Luke Hallis, Chief Bosun's Mate of HMS Clyde and Mr John Hunter of Lagan SAR Rescue Swimmer Corps.
Malcolm Williams, Chief Executive of the Shipwrecked Mariners' Society said: "The Society's annual Skill and Gallantry Awards are the highlight of our events calendar.  Every year we see men and women who have shown outstanding skill and bravery recognised and I am sure this year will be no different. The Awards raise awareness of the professionalism and selflessness seafarers and rescue crews demonstrate in keeping others, whether they be seafarers or members of the public, safe from the dangers of the sea. Ultimately, I hope these Awards go some way towards acknowledging their tremendous efforts."
Within the past year the Society has provided financial support in over 2,000 cases of need, received over 500 new applications for assistance and distributed grants worth over £1.4 million.
Nominations for this year's Awards are now open.  You can submit them by contacting:
Malcolm Williams, Chief Executive
Shipwrecked Mariners' Society, 1 North Pallant, Chichester, PO19 1TL
Tel: 01243 789329
The closing date for nominations is 12 noon, Friday 5 May 2017.
Since 1839, the Shipwrecked Mariners' Society has provided financial and practical help, assistance and advice to fishermen and mariners and their dependants who have suffered hardship, misfortune or poverty, as a result of being at sea or in retirement.
To celebrate Britain's proud and enduring connection with the sea, the Shipwrecked Mariners' Society runs a national annual photography competition. Launched to mark national Seafarers Awareness Week in June, the Charity encourages amateur and professional photographers to find the UK's ultimate sea view.
To find out more information about the Charity, visit our website, our Facebook page or follow us on Twitter.
To donate by text please send a text message to 70070 containing the code SMSY11 followed by your donation of £1, £2, £3, £4, £5 or £10. To donate online please visit our Charities Aid Foundation page.
You can also Gift Aid your contribution, meaning the Society can claim an additional 25 pence from HM Revenue & Customs for every £1 you donate.
You can post a contribution at any time to 1 North Pallant, Chichester PO19 1TL – cheques should be made payable to 'Shipwrecked Mariners' Society'.