On This Day (21st April) – WW2 Shipwreckollections
SS Amerika (1930-1943)
British motor merchant, Amerika, was completed in January,1930 for A/S Det Østasiatiske Kompagni, Copenhagen. In May 1940, the SS Amerika,weighting 10,218 tonnes, was transferred to the British Ministry of War Transport (MoWT) and moved to its new home port in London.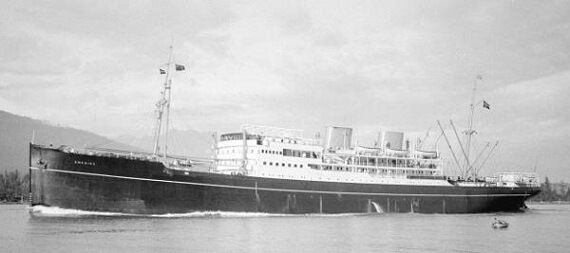 At 01.54 hours, on 22nd of April, 1943, the unescorted Amerika, a straggler from WW2 convoy, was torpedoed and sunk by a U-boat south of Cape Farewell, and sunk in the Atlantic Ocean. On the day of the ship wreck, the cargo liner was carrying 8844 tonnes of general cargo, including metal, flour, meat and 200 bags of mail. 42 crew members, including seven gunners and 37 passengers were lost of the 140 people on board. The master, 29 crew members, eight gunners and 16 passengers were picked up by the Royal Navy and landed at Greenock.
The Shipwrecked Mariners' Society provided the survivors with £208/8s worth of financial support – the equivalent of £8,847 today.
Photo from City of Vancouver Archives, CVA 447-1928.
Photo credit: www.uboat.net