On this day (10th March) The commemoration of Captain Archibald Smith VC
Today we celebrate the centenary of the action for which Captain Archibald Smith was awarded posthumously the VC
Captain Archibald Smith, Mercantile Marine, was the master of the SS Otaki, a refrigerated cargo liner, of the New Zealand Shipping Company.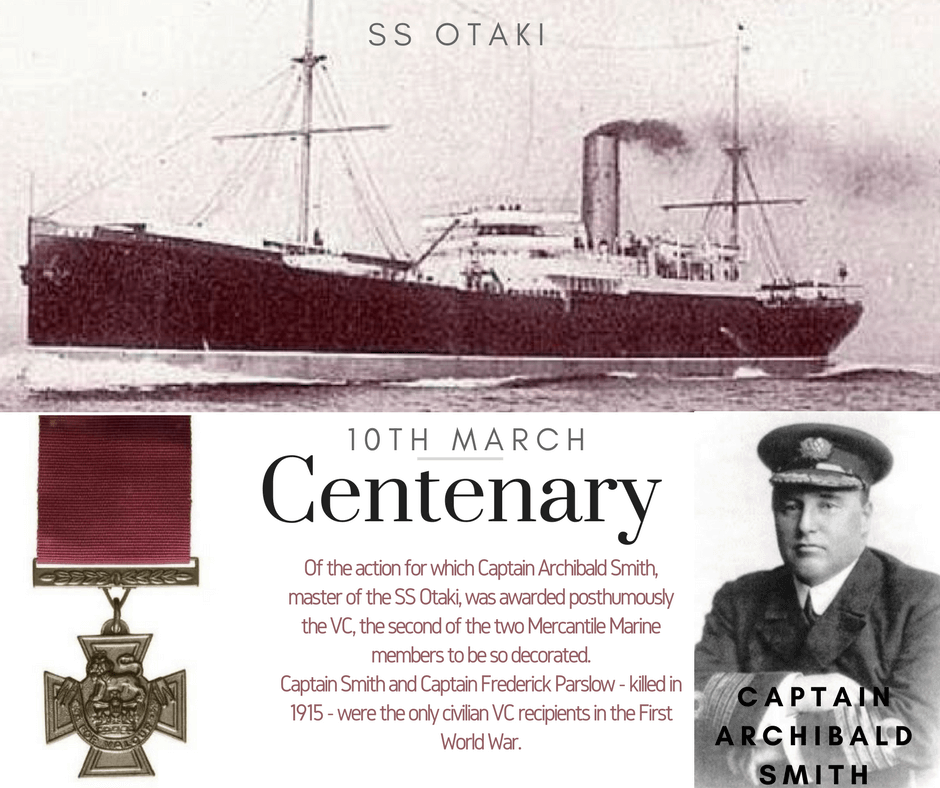 Having left London, Smith and his crew of seventy-one were on unescorted passage via New York and the Panama Canal back to New Zealand before returning to the UK with another consignment of frozen lamb. Some 400 miles west of Lisbon on 10th March 1917, the Otaki was attacked by the Möwe, an Imperial German Navy surface raider disguised as a merchant ship. While Smith's ship had a single 4.7" gun, stern-mounted as defence against surfaced submarines, the enemy vessel was armed with four 5.9", one 4.1" and two 22-pounder guns together with two torpedo tubes. A 20 min engagement left the German ship burning for three days but Smith's too was heavily damaged and on fire, having been hit twenty-two times for the eight it had inflicted on the Möwe. With five dead, Smith ordered his crew to abandon ship but went down with it as it sank.
The Victoria Cross
Mercantile Marine Captains Archibald Smith and Frederick Parslow, killed in action in 1915, were commissioned posthumously as Lieutenants in the Royal Naval Reserve in May 1919, an Admiralty device permitting them to be awarded the Victoria Cross. They were the only civilians so decorated in the First World War and the VC has not since been awarded within the merchant service.