Chichester Mayor Launches Shipwrecked Mariners Christmas Card Appeal (19/10/15)
The Mayor of Chichester, Councillor Peter Budge, has helped national seafaring charity, the Shipwrecked Mariners' Society, launch its annual Christmas Card Appeal in support of seafarers in need across the UK.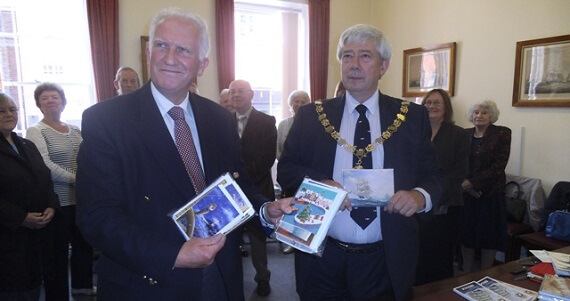 At a reception on Tuesday 13st October, Councillor Budge met local volunteers of the charity, who will be running the Society's Christmas card shop at its premises at 1 North Pallant, Chichester. The Society has been based in Chichester for 44 years. He was also given an insight into the Society's work on behalf of the seafaring community throughout the UK and Ireland over its 176 year history.
This year's collection of Christmas cards features many attractive maritime scenes along with more traditional and contemporary festive images together with other gift items including a maritime themed calendar. The profit generated through the sale of cards will go directly to help those who have spent their lives at sea or who suffer the consequences of shipwreck – usually single-manned fishing vessels – and face difficult financial circumstances in retirement or as a result of accident or ill-health.
Shipwrecked Mariners' Society Chief Executive, Commodore Malcolm Williams, said: "We were delighted that the Mayor of Chichester was able to launch our annual Christmas Card Appeal. This is the Charity's major annual fundraising campaign and the support we receive from people both locally and across the country enables us to continue helping those from the seafaring community who are desperately in need. All cards purchased and donations received will make a vital contribution towards our often life-changing work."
Founded in 1839 the Shipwrecked Mariners' Society's purpose is to provide financial help to merchant seafarers, fishermen and their dependants who are suffering hardship and distress. In the last year grants totalling £1.4 million were given in 2,252 cases of need.
The Society's Christmas and everyday greetings cards, as well as interesting and useful gift items, can be purchased from the Charity's head office at 1 North Pallant, Chichester, PO19 1TL. Opening Times: 10am – 4pm Monday to Friday and 10am – 1pm Saturday (from 14th November).
Cards can also be purchased online from our card and gift shop.
To request a mail order catalogue featuring all the Society's greetings cards and gift items: Tel: 01243 789329 or email: cards@shipwreckedmariners.org.uk
-ENDS-
For further information please contact Ellie Smith or Mike Renton at Acceleris Marketing Communications on EllieS@acceleris-mc.com or MikeR@acceleris-mc.com / 0845 4567 251